The Light of Dawn
By Chris LaCour

This is why I wake before dawnAnd sit alone on a cold dock. With legs crossed, cold and numb.With goose down and a thick hatkeeping the rest of me warm.I sit and wait in the dark.The thought of everyone else at home,Still dreaming in their beds,Still warm,Still comfortable,Is not one I dwell on.Because I don't envy them.Or their sleep. I know what they're missing.I know peace and quiet.And I know tranquillity.And while they only know the dreams in their heads, I know the light of dawn.Copyright © 2011 Chris LaCour. All rights reserved.
For Chris LaCour's G+ page:
https://plus.google.com/u/0/116177055522111923262/about
For Chris Lacour's web site:
http://www.chrislacour.com/
Powered by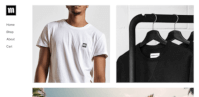 Create your own unique website with customizable templates.