Sustainability requires a holistic approach, an understanding of both positive and negative synergies between the inter-connected parts of the Enterprise, and the ability to model data and processes.

About Us
The world is changing faster than ever before!

That which was powerful before is not guaranteed to remain powerful.

That which was successful yesterday may not be so tomorrow.

Everything will change and the only way to stay abreast of change is to change with it.

Technologies will come and go, and being able to re-skill through the Knowledge that is exploding within the Web is the key to business survival.

We are a kernel team with a far-reaching footprint through the associations we work through.

In our quest for Sustainability Solutions we developed GreenIt!

See: http://www.greenit.org.za/

We offer services in the following fields:

- Data Mining and Information Delivery

- Business Intelligence

- Information Management

- GeoSpatial Applications

- eCommerce

- SEO

- CMS

- FaceBook Integration

- Twitter Integration

- Google+ Integration

- Mobile, Desktop & Web Development

- Marketing



Powered by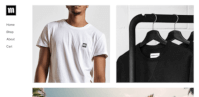 Create your own unique website with customizable templates.